Key Elements of The DrawSuccess Game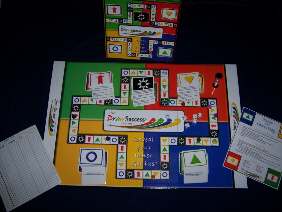 The DrawSuccess Game is so unique it's patent-pending! The following is a highlight of some of the key elements of the DrawSuccess Game.
Appeals to all Inner Genius Styles (personality and behavioral types).
Engages all five learning styles: auditory, kinesthetic, visual, social-emotional and metacognitive.
Transforms beyond teaching skills and knowledge to changing behavior.
Encourages both left and right brain thinking.
Fosters collaboration and synergy.
Relatable to all Levels in All Organizations .
Reveals Issues and Opens Up Discussion to Solve Problems.
Is modular, flexible and strategically aligned to the organization.
Offers personality and behavioral type analysis with "real life" situations.
Is "more than a game," and includes a process for follow-up and reinforcement.
To see the complete checklist on the key elements of the DrawSuccess Game, click here: Key Elements in the DrawSuccess Game